Product Description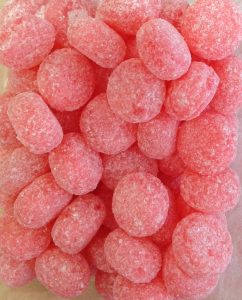 Do you remember Sarsaprilla cordial? If you do then these sweets will take you right back to your childhood.
If you don't know about Sarsaprilla then it's a very unique flavour. A plant root that is made into this sweet (a little bit like liquorice or burdock is) but this tastes of a mixture between raspberry and root beer.  It's an acquired taste, that's for sure…although quite "more-ish" once you get a taste for it.
Little red hard boiled sweets coated in sugar with that tang of Sarsaprilla. This is one sweet to try at least once, just to see for yourself what it tastes like.