Product Description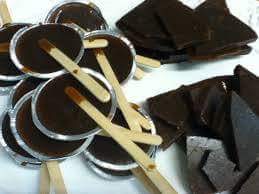 This bonfire fire toffee pack is huge and will easily serve upto 12 people. It's ideal for those who LOVE traditional bonfire toffee and are having a slightly larger gathering for November 5th.
It consists of:
15 Treacle Dab lollies. These are the old fashioned pan lollies that we used to enjoy as kids. Made using the silver foils on jam tarts, Ella Riley's is one of the last manufacturers of this type of lolly in Britain.
A WHOPPING 1lb (452g) of Aniseed Bonfire Toffee. This is the bonfire toffee we made with the help of the BBC2 cookery show "The Incredible Spice Men" with chefs Cyrus Todiwala and Tony Singh.
ANOTHER WHOLE 1lb (452g) of freshly made Ella Riley's Bonfire Toffee in slices, ready for you to smash to smithereens…which as everyone knows is the fun part of eating hard slab toffee!