Product Description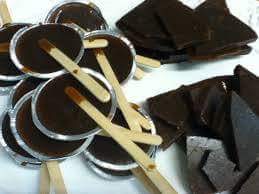 Our small but charming pack of Riley's handmade bonfire toffees is perfect for those of you who want to just try a little bit of what we make. This is a small but perfectly formed little pack of goodies.
It consists of:
4 Treacle dabs. These are the traditional handmade treacle lollies that come in the jam tart foils as pictured. Ella Riley's is one of the last British manufacturers of these lollies too.
1/4 (113g) Aniseed Bonfire Toffee. This was the toffee we made in conjunction with the BBC2 cookery show, "The Incredible Spice Men" which has gone on to become one of our best selling products.
1/4 (113g) Bonfire Toffee. This is the traditional version of the toffee we have made for years using the handwritten original family recipe.