Product Description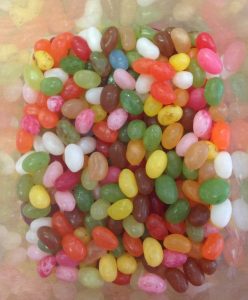 Gourmet Jelly beans, just like normal jelly beans but in a much wider variety of flavours. Our regular jelly beans come in fabulous fruity flavours but these gourmet jelly beans come in exotic flavours such as passion fruit, coconut, piña colada, guava to name but a few.
The real fun begins with these beans though when you pop more than one in your mouth at a time. Then the flavours start to burst out creating new and even more delicious combinations.
These are a new addition to our shop shelves but one that is proving extremely popular indeed and not just with the kids but with adults too.