Product Description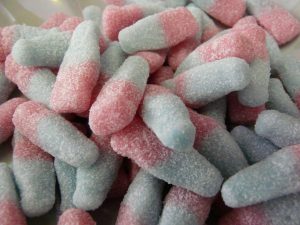 These tangy little bottle shaped gummy sweets are bubblegum flavoured but with a sour kick to them. Pink and blue in colour these blue bubblegum bottles are really popular with kids and adults alike.
We have also found that these sweets in particular are very popular with people undergoing Chemotherapy treatment. Due to the tart tangy taste they appears to help get the saliva flowing again once the chemo stops it.
A great sweet that not only tastes fabulous but also does a good job for cancer patients too.