Hello, welcome to Ella Riley's traditional sweet shop which is owned by Steven and Freya.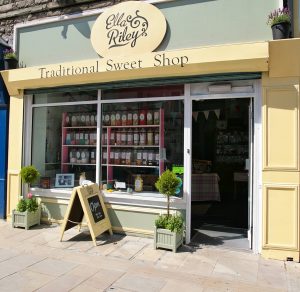 We are a British company making & selling fantastic traditional sweets.
Here at the Ella Riley sweet shop in Bridgend (South Wales) we handmake a number of different confections including fudges, brittles, fondants and hard boiled sweets. We are perhaps best known for making the world famous Riley's Toffee Rolls…a long established confection that was first made in 1907 by Freya's Great, Great Uncles.
The shop is named Ella Riley's after Freya's paternal Grandmother, who gave her the handwritten copy of the Riley's Toffee Rolls recipe. Ella had tucked the recipe into an old cookery book, called "Economical Cookery" which she then gave to Freya upon her death. For a number of years the book sat on Freya's bookcase, unread. Then one wet Easter holiday, in an attempt to entertain her bored children with a bit of cookery, Freya got the book down and out fluttered the recipe to the ground.  Having looked at it, Freya recalled vague stories from her youth from Ella about a "famous toffee in the family" but she had dismissed it as being somewhat untrue.
However on this occasion, Freya telephoned her Father (Ella's son) to ask him if he knew about the recipe. To her surprise her usually placid and calm Father burst into wild exclamations of expletives and told her to "Burn it, burn it now and never let that damned thing see the light of day again!"
Somewhat stunned at her Father's instructions, and after he had calmed down somewhat she learned that her Father's ire was peaked because as a child he had been an unofficial taste tester of the confections and blamed his loss of teeth on the excessive toffee he was fed!  To quote her Father "My teeth ended up going the way of the miners in strike…one out, ALL out because of that toffee!"
having never been one to ignore her Father's sound advice, Freya decided on this occasion to completely ignore him and lucky she did too. She and her husband Steven were able to secure the intellectual property rights for the toffee back from Kraft Plc who were the former owners and in 2009 put the Riley's Toffee Rolls back into production.
Today the the toffee is supplied to over 300 retailers across the UK and Ireland, including traditional sweetshops, Deli's, Foodhalls, farm shops & gift shops.
Freya & Steve also run a traditional sweetshop in Bridgend too, where all the toffees are manufactured in small handmade batches in the kitchens behind the shop.